April 26, 2021
Hello and welcome, everyone.
I appreciate your attending yet another Zoom State of the University speech, and hope you and your families are well.
Soon, we'll be back on campus doing the things we love – activities we used to take for granted, that became the little things we miss so much.
***
This has been an incredible year, with a lot to cover.
Two overwhelming factors shaped this year: COVID-19 and the powerful rise in social justice movements.
COVID has taken an enormous toll. But it also has shined a light on the best of our humanity – and on our potential to do more, to serve people and improve society.
We also know how much more needs to be done to fight profound and systemic racial, social, and economic disparities and injustices.
We've been connecting and partnering with each other like never before. And Trojan voices and leadership have literally reached across the world.
That's a great reminder of USC's history – founded more than 140 years ago as a pluralistic, multi-ethnic, multi-cultural university on the frontier of our nation.
Our diverse, adventurous community continues to push boundaries, to overcome challenges, to innovate, and explore. These are big reasons, I'm sure, why many of you came here.
But we aren't perfect. How we seize this moment – to improve ourselves, to advance justice and the quality of life for all, and to protect our planet – all this will define us ahead.
***
As I think about the last year and our future, I believe we have every reason to be optimistic.
We have an amazing seed bank – in talent and resources and sheer drive to succeed – together with size, breadth, and location like almost no other university on the planet. And we have accomplished so much already – together.
Today, I'm going to highlight some of our achievements and challenges over the past year, especially those that I think are setting us up for success ahead.
Then, I'll pivot to a discussion of our future.
***
Any conversation about achievements and challenges this year, of course, starts with the COVID-19 pandemic.
It was precisely 402 days ago, when all 80,000 of us who work and study at USC, stepped into the unknown. It'd been more than a century since the world experienced a global pandemic like this one.
And what did we do? We turned on a dime, and became a digital university. We flipped more than 7,000 classes in three days, retooled our operations to meet COVID safety standards, shuttered residence halls, retail operations, hundreds of competitions, shows, galas, and other events.
We had to make some tough decisions – painful decisions even. But they were the right ones.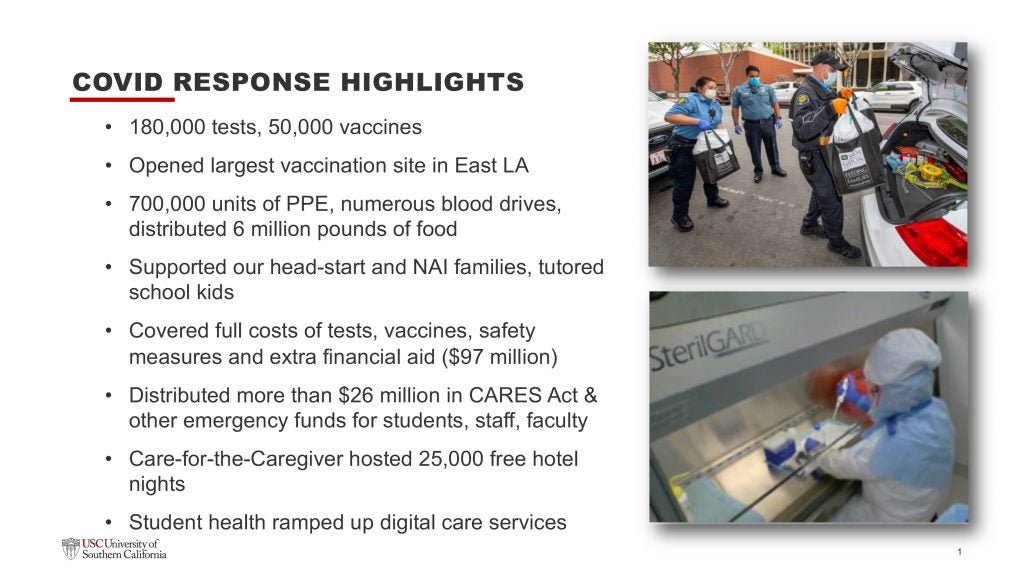 This slide highlights some of USC's COVID-related responses and community partnerships – it is quite an impressive list, and it really is only a small part of the picture.
I want to recognize the faculty, staff, and physicians who led our internal COVID-response and health assessment teams during this rapidly evolving crisis.
These folks helped us understand the virus and its impact, including regulations that changed every single day, and they continue to work just as hard, as we plan our return to full operations.
I also want to thank the many generous alumni, trustees, and parents who helped cover the great costs related to all these unanticipated activities.
And I know I speak for everyone when I thank the thousands of medical care angels in USC hospitals, clinics, pharmacies, and our street medicine program who've been keeping it all going, and serving the sick at great risk and cost to themselves.
Thank you. You all have helped so much.
As a result of all this outstanding work, together with our essential workers who came to campus, who opened our libraries and our buildings, who fed and took care of our remaining students – thanks to you and so many others, university life continued.
More than 18,000 students graduated last year. And in a couple of weeks, we'll be hosting 14 in-person commencements, as well as a full day of digital ceremonies for 19,000 new graduates and their families.
This reminds me, by the way, to give a huge shoutout to the unsung heroes of our school, and that's including our IT and communication colleagues, and the events teams who have hosted 44 high-quality digital events a day since the start of the pandemic.
Just to give you a sense of scale, over the pandemic we've had 50 billion impressions – that's any time anyone interacted with our events, our social media, or stories about USC anywhere in the news. That is crazy.
***
Now, I'd like to turn briefly to admissions and financial aid.
This fall we welcomed the largest, most academically accomplished and diverse first-year and transfer class in USC history.
Moreover, first-year undergraduate applications for Fall 2021 were 20 percent above 2020, and seven percent above 2019, which was the previous all-time high.
Those whom we've accepted, once again, are academically accomplished and diverse, and we've seen historic increases in underrepresented minority and first-generation students.
We are also continuing to make education at USC more affordable and accessible. In fact, two-thirds of our students now receive some form of financial aid.
And last year we implemented a new policy providing a tuition-free education to students from families making less than $80,000 per year.
We are expanding that program this year to include both first years and sophomores, with full implementation over the next three years.
***
Next, I'd like to touch on academic excellence and impact – realizing of course, it is not possible to do full justice to the topic in one speech.
Still, I can confidently say, that USC's already high level of academic excellence, our programmatic breadth and achievement, and reputation as a leading research university – is getting even stronger.
All of this is described in the 10-year reaccreditation report, which was submitted by the Provost this winter.
Faculty and staff spent more than a year preparing that report, and it really shows. You'll be able to read it online when the review is complete – and I really hope you will.
Let me say a few words now about rankings. Now, we all know that rankings carry many biases, but they also help paint a picture of USC in the world. We have a good story to tell this year. Seventeen schools and divisions at USC are in the top 20; 15 are in the top 15; and 11 are in the top 10.
Another indicator of USC's academic strength is research funding: our ability to attract research funding in many areas – including computer science, Alzheimer's, cancer disparities, gaming, and quantum computing – are among the top universities in the nation.
This year, for the very first time, the sum of our competitive research grants exceeded $1 billion, which was a large increase over the previous year. And it is especially notable this happened in such a competitive environment and during the COVID pandemic.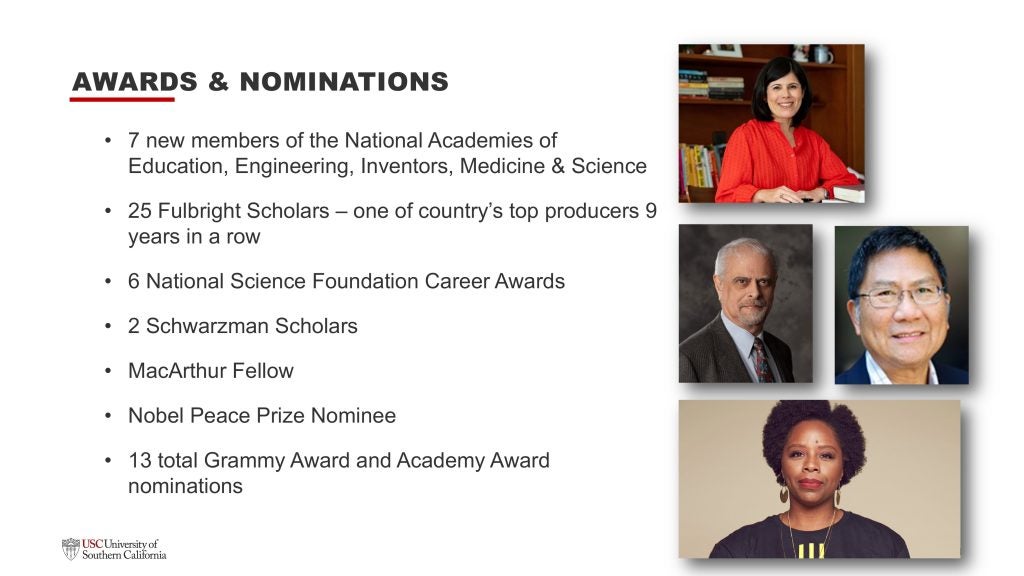 As illustrated on this slide, our faculty, our students, alumni, and our staff continue to earn national recognition for achievements that are shaping critical fields of inquiry and creative practice.
Individuals in fields spanning the humanities and the arts, STEM, social sciences, law, policy, medicine, media, and journalism – all are being recognized at the most distinguished levels.
One of our graduates – artist and activist, Patrice Cullors, from the Roski School of Design – has even been nominated for the Nobel Peace Prize this year, for her world-changing impact as a co-founder of the Black Lives Matter movement.
***
Another area of achievement is our focused effort to build diversity, equity and inclusion into our mindset and our operations at USC.
I really hope you'll visit our diversity website, where you can read about the many ways USC is embedding DEI into all aspects of university life.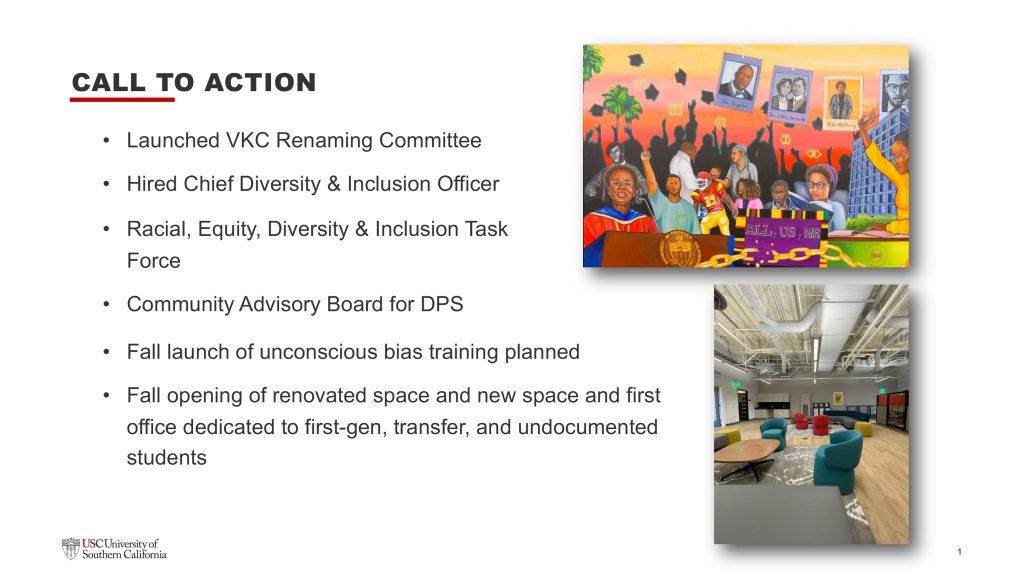 Last August, I posted six calls to action for this year, and I'm proud to say that we've completed or are about to complete all of them.
Let me go over just a few of them right now, making the point that in all cases, the committees include faculty, staff, and students, and often alumni and other community members.
We recently welcomed our first Chief Inclusion and Diversity Officer, Dr. Christopher Manning, who reports directly to me. Chris is going to play a vital role in fostering a spirit of respect, understanding, and belonging across our university, and he'll help devise new processes to incorporate DEI in all that we do.
Earlier this month, the Provost and I received the final report of our Task Force on Racial Equity, Diversity and Inclusion, which we call REDI, chaired by Professor Manuel Pastor and Senior Vice President of Human Resources Felicia Washington.
Their recommendations touch nearly every corner of the Trojan community, and while some can be implemented quickly or are already in process, others will require additional, fuller evaluation, which we will start doing this summer.
We also established a new Community Advisory Board – or CAB – for the USC Department of Public Safety; that's co-chaired by Professor Ange-Marie Hancock Alfaro and Professor Erroll Southers.
They're going to report their findings shortly.
CAB's role will be to help us ensure an environment in which people feel safe and respected, and to strengthen the trust between the university, DPS, and our broader community.
***
Finally, before I move to our plans for the future, I want to touch on our finances.
We are very fortunate at USC that our financial picture is positive.
The value of our Endowment reached an all-time high of $6.9 billion in FY2020, and we received nearly $660 million in gifts and pledges from our generous and caring alumni and donors.
With careful management, we've reduced the budget deficit due to COVID by more than half, to about $200 million. We're also in a strong position to cover the costs of our legal responsibilities.
As I wrote to the community recently, even in this time of financial stress, we will continue to make investments in key initiatives, including strengthening our student experiences, improving mental health services, bolstering our exceptional academic and clinical programs, and growing our research and clinical capabilities.
***
From this vantage point right now, I truly believe there is no better time to be a Trojan.
We've been tested as never before; we've emerged stronger, faster, and more driven to excel.
As one of the nation's leading research universities, we've demonstrated the enormous value we are bringing to society – and not just physically and materially, but emotionally and spiritually.
And people are taking notice. USC was included in more than 300,000 news stories last year, including major pieces about our research and thought leadership in the fight against COVID, for social justice, about the 2020 election, sustainability, about media bias, and in our major discoveries in science, technology, and medicine.
Clearly, we have the talent, the location, the bandwidth, and the resources to make a unique mark on the world.
And I believe this speaks to the enduring strength and relevancy of our Mission at USC – so I think it's worthwhile just to revisit our Mission and discuss how our Mission relates to our vision for the future.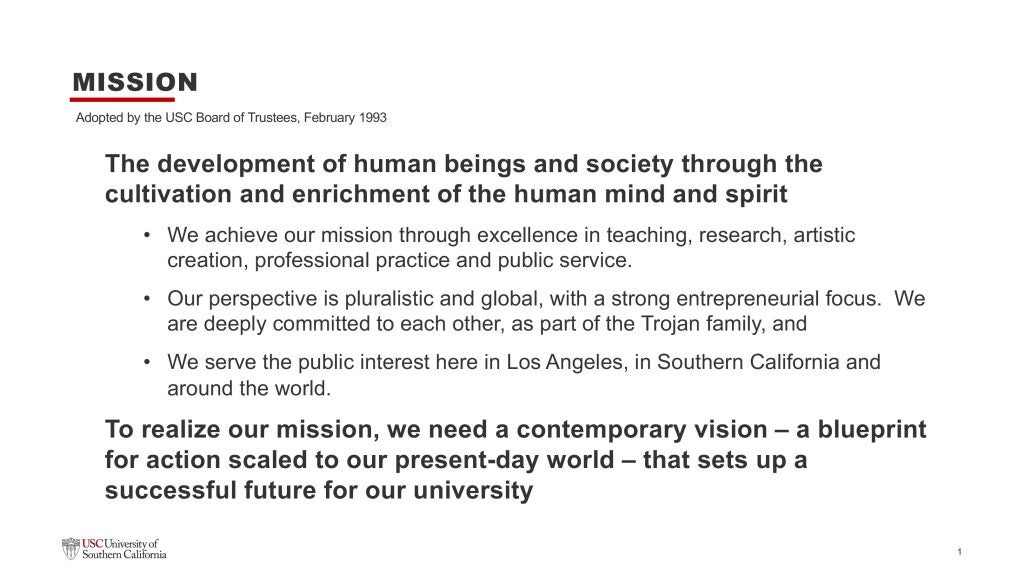 When you read this, I think you'll agree that the USC Mission is quite uplifting – it calls for the development of human beings and society as a whole, through the cultivation and enrichment of the human mind and spirit.
We achieve our mission through excellence in teaching, research, artistic creation, professional practice, and public service.
Our perspective is pluralistic and global, with a strong entrepreneurial focus. We are deeply committed to each other, as part of the Trojan Family.
And we serve the public interest – here in LA, in southern California and around the world.
***
To realize this grand mission, we need a contemporary vision – a plan for action that is scaled to our present-day world and that will set up a successful future for our university.
Here are some essential elements of such a vision.
First, it has to reflect the realities of today, as well as the needs of tomorrow. It has to define what we mean by excellence and success, and it has offer a blueprint to meet our academic goals.
Second, it must define a broader pathway to pluralism, one that extends not only across the globe, but deep into the neighborhoods of Los Angeles and across America, to reach what some have called the "missing millions" – that's the legions of students of all ages, who have never had access to a research university like USC. We must open our doors for them – their talents are urgently needed.
Third, our vision must explicitly state our commitment to each other, and to the values of diversity, equity, and inclusion. We want everyone to feel they are a valued member of the Trojan Family, and to feel they are safe and respected, that they belong. The terrific work of the Culture Commission has taken us a long way to getting the words right, and now, we have to make sure we are living what we say.
And finally, we have to double-down on the goal – that's enshrined in our Mission – of serving the public interest – of being a true anchor institution for our community, a valued partner and a leader around the region and across the world.
In so many ways big and small, USC's commitment to the public good is the driving inspiration for so many of us to do what we do every single day.
***
So let me sketch out a vision for USC:
I see USC progressing even further as a top global research university – a dynamic hub for discovery, innovation, economic prosperity, humanity, and social justice.
By "dynamic hub," I mean we should be a nexus where educational institutions, government, and business work collaboratively with us and on warp speed; we have to be a place that burnishes the human spirit, confronts society's greatest challenges, and reduces – with the goal of eliminating – educational, health care, and economic gaps.
We can thrive by pursuing what the founder of the National Science Foundation once called the endless frontier of knowledge. For example, with the right plan, we can double both our research funding and the footprint for our academic medical center.
We can be a leader in sustainability, in data sciences, in new methods of teaching and learning, and in promoting the convergence of AI and technology, into every sector.
We can take online learning to a new level that helps create jobs and expands educational access to the missing millions.
***
Now, I realize this vision is ambitious, but it's absolutely achievable, if we focus our efforts in five key areas:
First, we have to always be mission centered, and that means that we keep our students at the center of our focus, and we prioritize our core goals of advancing knowledge, discovery, and creative expression.
Our faculty, researchers, and students are constantly breaking new ground; we need to provide the services, the support, the facilities, and infrastructure to keep them growing as people and as leaders.
In some cases, their work is the seed corn for discoveries years out, but in others, they're having an immediate impact on people's lives and well-being.
For example, we're providing new tools for election authorities and voters to make it easier for people to vote.
One of our law professors published the first textbook to focus on the legal treatment of transgender, gender non-conforming, and non-binary individuals.
And we're presenting new research and recommendations on addressing sexual assault in the military to an independent review commission just established by President Biden and Defense Secretary Austin.
Please know there are so many more examples of outstanding, consequential work that I could cite.
Second, we, and in fact all of higher education, have to expand the tent, and we have to be steadfast in advancing belonging, diversity, and equitability.
We need to lead society in these ways.
While we have made great strides in this area at USC, we still have a lot more that we can do.
I think we have to redouble our efforts to remove barriers, and promote an affirming and welcoming environment for faculty and staff, as well as for students. And we need to carry that same commitment beyond the boundaries of our campus.
This means continuing to partner with our communities, to purchase and hire locally, to improve health and education, to foster local sustainability, and bolster the arts – all of which will help make LA a better place for everyone.
Third, we have to take collaboration to a dramatically higher level. In my inauguration remarks in 2019, I spoke about the need for us to collaborate at warp speed, if we wanted to continue to be a leader.
Little did I know then, that six months later, a global pandemic would give added urgency to that imperative, or that the new National Science Foundation leader would make supporting partnerships a mantra for NSF for the future.
Now of course, partnership is not new at USC – we see it in action all across campus. But I know we can improve the way we foster collaboration, and in that way, we can accelerate it.
Let me share a few examples of successful collaborations already occurring here.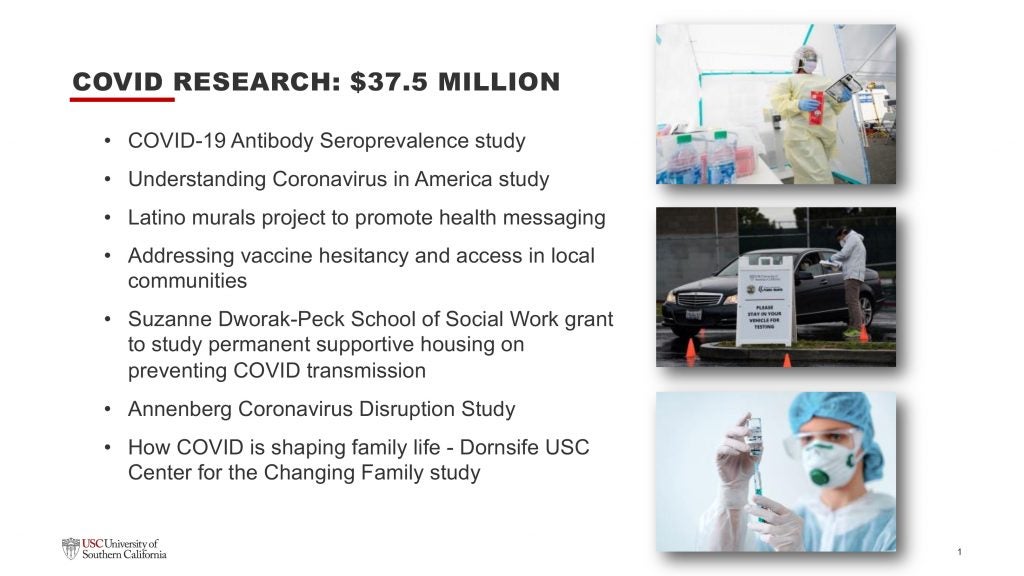 This slide is just some of the work our researchers and medical staff are doing to advance understanding of COVID-19 – they're countering vaccine hesitancy, addressing other important social issues, and their extraordinary research efforts have deepened partnerships across our scientific and health institutions, as well as deep into our communities.
Also in the medical arena, we have institutes and departments in the Keck School of Medicine dedicated to advancing research into neurodegenerative diseases, particularly Alzheimer's.
These scientists are working concurrently across the continuum, from basic laboratory investigation to neuroimaging and other techniques to clinical drug development. And soon they hope to bring a disease-slowing treatment for Alzheimer's to the clinic. It's just wonderful work!
Dornsife has created an innovative collaboration between academic researchers and the public and private sectors called the Public Exchange. They focus on a lot of things – I just love this program – and most recently they're focusing on sustainable cities.
One of those projects, called the USC Urban Trees Initiative, is just fantastic; it's bringing together USC experts and students, with the City of Los Angeles and local communities, to guide the growth of urban forests in areas where there are no trees. It's an initiative that will greatly benefit the health and quality of life for local residents.
Deep collaboration, of course, is also taking place in our schools of art, education, communication, and across the institution.
Sensing a strong need to tell the story of African peoples from a variety of viewpoints, an ambitious student-led collaboration of composers, writers, choreographers, filmmakers, faculty mentors from four different schools, created a fascinating seven-part film series, called "From Tragedy to Triumph: A History of the African Diaspora."
By working together across disciplines, these creators were able to tell a story of profound depth and richness, and it will delight – and inform – audiences everywhere.
And last, a particularly exciting collaboration on the horizon is the new Discovery & Translation Hub building that's being planned for the Health Sciences Campus.
This facility will increase research space on HSC by approximately 80 percent, and it will support more than 100 new faculty. This is going to be a game-changer for transforming biomedical research at USC.
Fourth, we must use our collective strengths to take on grand challenges of our times.
Issues like climate change and sustainability; racial and social equity; bringing ethical and humanistic perspectives into STEM; upskilling and retraining to offset massive job losses; countering political polarization; and so many others.
You know, we have a lot going for us at USC to help take the lead in addressing all these challenges – like the fact that so many of our schools are closely aligned with sectors that are dominant here: entertainment, business, engineering, law, the arts, and so many others.
We also have the scale and the potential for speed that few universities can match. And as our pandemic experience demonstrated, we can turn on a dime; we can shift resources when we decide to do so.
And finally, and very importantly, we must operate with the highest ethical standards and behaviors in everything we do.
As many of you know, we recently announced the resolution of remaining litigation against USC, arising from the abuse of patients by George Tyndall. The events have been extremely painful and difficult for everyone, but particularly for the women and their families.
In response, we've implemented robust new proactive and protective measures, protocols and oversights, and we've enhanced safety – all with the goal of making certain that something like this doesn't happen again.
We've also taken concrete steps to address other legacy issues as well, as we continue strengthening our commitment to ethics, accountability, and values across the university.
***
These are five clear pathways to our vision: student-centered lead in education and discovery; expand the tent and strengthen diversity and inclusion; collaborate, collaborate, and collaborate; take on grand challenges, moonshots, for the public good; and ensure we operate with the highest ethics and values.
Now, we have a lot of exciting work ahead to develop these ideas for the next decade. So, here's how we can get started right away.
Over the next six months, I'm asking our deans to work with their schools to produce a vision for the future of their professions, and for collaboration on warp speed.
I'm asking the Provost, and our new Senior Vice President for Health Sciences, working with all our schools to determine:
how to best expand and support an online strategy for the future;
how to increase our global engagement;
how to launch our moonshot in computation and AI;
how to identify concrete steps to promote and reward interdisciplinary and interschool collaboration;
and I'd like them to develop a five-year plan for the infrastructure needed to expand our research and our creative expression.
I'm asking our other senior vice presidents to lead efforts with the deans to evaluate work-from-home options, explore expanded wellness programs, and further enhance our mental health and student services.
And finally, we are committed to refining and implementing our sustainability goals, as outlined in the soon-to-be-released USC 2028 Sustainability plan.
The President's task force on sustainability, chaired by Professor Dan Mazmanian, has brought together all facets of the university with plans for rapid improvements in education, in research, and campus operations, with the goal to make USC the gold standard for sustainability.
I've worked on sustainability issues for most of my professional life – but the time is now to truly make changes.
I know that we can be a big part of enacting Mayor Garcetti's plan for sustainability, and for growing out the green and the blue economies in this region. We can be part of the nation's renewed focus on climate change, and the disparities in health and wealth that it exacerbates.
So often it is our students who are the catalysts for change, and that's certainly true in the push for sustainability at USC. We've seen their ideas to reduce waste, divest from fossil fuels, lower carbon emissions, and pursue environmental justice – and so much more.
They are amazing and persuasive, and their passion for change propels me every single day.
One thing I know is that many answers to grand challenges like these will come from people on the campus of USC, and in other great centers of learning around the world.
Because those answers are inside all of us – we've demonstrated, over and over again, that we can turn inspired ideas into lasting, practical solutions.
***
Progress always comes down to people – to their vision of a better world, and to their commitment to creating that world. And this has been particularly true this year.
I want to end my remarks by saluting all the people of USC, who skillfully navigated us through rough seas over the past year.
And that includes all of you, as well as our alumni, the members of all of our boards of leaders across the schools, and our USC Board of Trustees.
You've all kept us focused on caring for our community, by advancing our Mission as a university and our vision as a force for good – and for hope.
Every year, we award the USC Presidential Medallion to an individual here at USC, who exemplifies all we stand for as Trojans.
This year, I am giving the medallion to all of our USC employees, not just for what you achieved, but for the great things to come – for our university, for our community, and for the world. Later this year, we'll be dedicating permanent plaques on our University Park and Health Sciences campuses to commemorate your extraordinary efforts for future generations of Trojans.
I'm going to close now with a brief video tribute to you. And then I'll return to take questions.
Thank you very much, and Fight On!