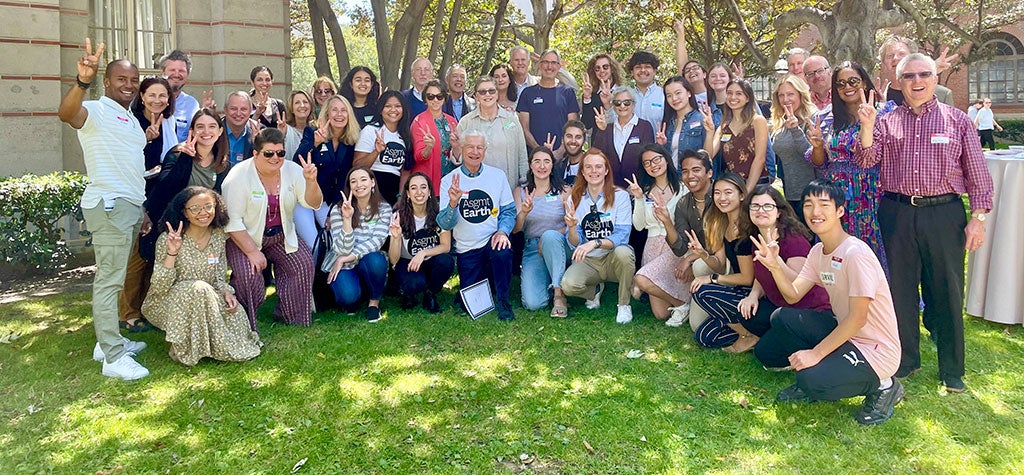 President Carol L. Folt established the Presidential Working Group (PWG) on Sustainability in September of 2019 to explore approaches for USC to become a model for sustainability in its education, research, and campus operations. The PWG's primary body currently has representatives from 10 schools, the Academic Senate, the Provost's office, the Office of Sustainability, the Office of University Relations, the Office of Diversity, Equity and Inclusion (DEI), the Office of Research, Auxiliary Services, Facilities Management Services, Keck Medicine, the Environmental Student Assembly, and student government. It has six subcommittees — Diversity, Equity & Inclusion, Education, Research, Operations, Engagement, and Students — engaging over 100 students, faculty, and senior administrators.
During its first year (2019-20), the PWG explored how to integrate sustainability into the university's curriculum, research, and operations. During 2020-21, the various committees developed multi-year initiatives and the PWG integrated them into a university-wide strategy called Assignment: Earth with plans that extend through 2028. During 2021-22, the committees worked with partners in various administrative offices to chart pathways for implementing Assignment: Earth initiatives and goals. During 2022-23 the PWG continues to work toward the effective implementation of the Assignment: Earth framework and its ambitious goals through the engagement of students, faculty, and staff across the USC community.
Learn more about Assignment: Earth
Guiding Principles
The work of the PWG is guided by three principles:
USC has a responsibility to raise awareness among all USC students, faculty, staff, and friends on the causes and implications of climate change and the other growing challenges to sustainability.
As a premier research university, USC is committed to developing solutions to these threats, particularly solutions that redress inequities.
Climate change affects all aspects of human life and natural systems, and as a result, every discipline should contribute to this education and research effort.
Major Recommendations
Education
Ensure that USC alumni are stewards of the planet, with every USC student engaged in sustainability learning — both didactic and experiential — through courses, research, and engagement at USC.
Elevate the importance of interdisciplinary scholarship at USC so that students graduate with both deep interdisciplinary expertise and broad skills in developing systemic solutions to sustainability challenges.
Research
Elevate the breadth of USC transdisciplinary research in sustainability challenges and solutions with a suite of sustainability themes defined by scholars and researchers and provided institutional support by the university.
The multi-disciplinary Postdoctoral Fellows program is intended to focus on key sustainability challenges and solutions-oriented research
A suite of thematic cluster-based faculty hires should be initiated around key sustainability challenges and solution-oriented research
An annual program of internal transdisciplinary, multi-investigator research seed awards should be initiated
Engagement
Engage students, faculty, staff, alumni, community neighbors, the City of Los Angeles and the L.A. region, and the global community in the pursuit of sustainability and addressing climate-related inequalities. Bring the USC campuses into dialogue with the neighborhood community, business, political, and social leaders about how to pursue sustainability goals collaboratively.
Empower and support efforts by culture practitioners at USC and beyond to enhance sustainability awareness, understanding, and commitment
Make each member of the USC community aware of sustainability challenges and ensure they all have the resources and support to engage in action to address them.
Ensure that sustainability is integrated into USC's public policy posture in Los Angeles, California, and at the federal level
Become a trusted partner and convener for community-based organizations working on sustainability issues
Incorporate sustainability into USC's economic inclusion programs, comprised of small business, workforce, and nonprofit development
Operations
Advance campus sustainability and serve the surrounding community through sustainable campus planning and construction, net zero sustainability strategies, and broad-based stakeholder engagement and outreach.
Achieve climate neutrality by 2025
Integrate the natural and built environments across the campuses and into the surrounding communities
Advance human wellbeing, ecological health and biodiversity, and promote a healthy and nature-informed built environment
Diversity, Equity, and Inclusion
Mitigate and adapt to the challenges of sustainability which will require acknowledging and responding to inequities in society though all sustainability activities of the university.
Develop and implement an evaluation framework that enhances transparency and accountability in reporting on the role of the University as an anchor institution in addressing sustainability and inequities
Include in all university sustainability activities metrics on the extent to which they result in mitigating adverse effects on the natural environment and social and economic inequities
Members
Mick Dalrymple – Co-Chair; Chief Sustainability Officer
Mahta Moghaddam – Co-Chair; Research Director, USC Center for Sustainability Solutions; Ming Hsieh Chair in Electrical and Computer Engineering-Electrophysics and Distinguished Professor of Electrical and Computer Engineering, Vice Dean for Research, USC Viterbi School of Engineering
China Adams – Assistant Professor of Teaching, USC Roski School of Art and Design
Paul Adler – Harold Quinton Chair of Business Policy and Professor of Management and Organization, Sociology, and Environmental Studies, USC Marshall School of Business
Jan Amend – Divisional Dean for the Life Sciences and Professor of Earth Sciences and Biological Sciences, USC Dornsife College of Letters, Arts and Sciences
Joe Árvai – Director, Wrigley Institute for Environmental Studies; Dana and David Dornsife Chair and Professor of Psychology, USC Dornsife College of Letters, Arts and Sciences
Burcin Becerik – Dean's Professor of Civil and Environmental Engineering, USC Viterbi School of Engineering
Christina Bellantoni – Director, USC Annenberg's Media Center; Professor of Professional Practice, USC Annenberg School for Communication and Journalism
Marlon Boarnet – Professor of Public Policy and Chair of the Department of Urban Planning and Spatial Analysis, USC Price School of Public Policy; Director, METRANS Transportation Center
Emily Briscoe – Undergraduate student; Co-Chair of the Student Committee of the Presidential Working Group
Connor Castillo – Undergraduate student; Co-Executive Director, Environmental Student Assembly
Ellen Dux – Associate Director, USC Office of Sustainability
Hannah Findling – Sustainability Program Administrator, USC Office of the President, USC Office of Sustainability
Sam Garrison – Senior Vice President, University Relations
Elizabeth Graddy (ex officio) – Executive Vice Provost, USC Office of the Provost
Genevieve Giuliano – Margaret and John Ferraro Chair in Effective Local Government and Professor, USC Price School of Public Policy 
Howard Hu – Chair and Professor of Population and Public Health Sciences and Flora L. Thornton Chair in Preventive Medicine, Keck School of Medicine of USC
Nichelle Huizar (Nikki) – Sustainability Administrator, Auxiliary Services
Lisa Krohn – Assistant Professor of Practice, Product Design, and Innovation; Iovine and Young Academy
Valerie Kuo – Undergraduate student; Co-Executive Director, Environmental Student Assembly
Marty Levine – Vice Provost and Senior Advisor to the Provost, USC Office of the Provost
LaVonna Lewis – Associate Dean of DEI and Teaching Professor of Public Policy, USC Price School of Public Policy 
Colin Maclay – Research Professor of Communication, USC Annenberg School for Communication and Journalism; Executive Director, USC Annenberg Innovation Lab
Christopher Manning – Vice President and Chief Inclusion and Diversity Officer
Sean McCalla – Undergraduate student, Presidential Working Group Administrative Assistant
Rob McConnell – Professor of Population and Public Health Science, Keck School of Medicine of USC
Mahta Moghaddam – Co-Director, USC Center for Sustainability Solutions; Ming Hsieh Chair in Electrical and Computer Engineering-Electrophysics and Distinguished Professor of Electrical and Computer Engineering, USC Viterbi School of Engineering and
Daniel Pecchenino – President, Academic Senate; Associate Professor of Writing, USC Dornsife College of Letters, Arts and Sciences
Ishwar Puri – Vice President for Research, USC Office of Research
Jon Reuter – Chief of Operations, Keck Hospital of USC
Gabriel Romero – Graduate student; Co-Chair of the Student Committee of the Presidential Working Group 
Bhavna Sharma – Assistant Professor, USC School of Architecture
Gale Sinatra – Professor of Psychology and the Stephen H. Crocker Professor of Education, USC Rossier School of Education
Barbara Sladeck – Assistant Vice President, USC Auxiliary Services
Jill Sohm – Associate Professor (Teaching) of Environmental Studies and Director of Environmental Studies Program, USC Dornsife College of Letters, Arts and Sciences
Sara Stienecker – Undergraduate student; Chair of Sustainability and Campus Infrastructure, Undergraduate Student Government
Andy Stott – Vice Provost for Academic Programs and Dean of the Graduate School, USC Office of the Provost; Professor of English, USC Dornsife College of Letters, Arts and Sciences
Effie Turnbull Sanders – Vice President of Civic Engagement and Economic Partnerships, USC University Relations
Alicia Vogelaar – Doctoral student; Director of Sustainability, Graduate Student Government
Zelinda Welch – Associate Director of Sustainability, Facilities Planning and Management
Detlof von Winterfeldt – J.A. Tiberti Chair of Ethics and Decision Making and Professor of Systems Engineering, USC Viterbi School of Engineering; Professor of Public Policy, USC Price School of Public Policy; Executive Director, USC Center for Sustainability Solutions
Committees Members