Greetings to our Trojan Family,
As we begin fall 2020 — a semester like no other — USC welcomes over 40,000 students from all over the world. If you're one of our first-year students, you're starting college in a way you never anticipated, but I'm certain you'll settle in like students who came before you. You're going to learn, discover, and make friends for life. You're going to be a Trojan.
Your University has been working hard to safely restart our classes. Most of us will remain apart, but we've found ways to break barriers and bring people together. We'll share our lives, experiences, and talents, and we'll get to know each other.
You might enjoy seeing some of our fall plans on this webinar and on our We are SC website. From entertainment to networking, from well-being sessions to roundtables, USC will come alive online. Our faculty and staff have been hard at work preparing more than 8,000 academic courses that will challenge students and prepare them for the future.
I hope you'll scroll down to see what's in store and what your fellow Trojans have been up to since we were last together. Trojans are resilient and face every challenge thrown their way. When we say "Fight On," we mean it.
Have a great fall semester,
Carol L. Folt President
---
A STIMULATING FALL FOR STUDENTS
Our faculty and staff have worked day and night to bring home an exciting fall semester for students — even if it's online and onscreen. See details at We are SC, our one-stop digital hub for fall 2020 information. A few highlights:
Welcome concert on August 15 featuring special guest performers.
Involvement fairs for over 1,000 student organizations — more student groups than any university in the country.
Performances by popular musicians, comedians, and artists like playwright Funmilola Fagbamila, performance artist Kristina Wong, and rapper Chuck D of Public Enemy.
Talks by some of today's most forward thinkers.
Micro-seminars, where first-year students join small-group student chats with professors.
Social channels and digital meeting spaces where students create communities.
Networking events, virtual career counseling, and mentoring opportunities with 10,000+ alumni professionals.
Librarians to help students to access USC's millions of books and documents.
Regional gatherings for international students through USC's nine international offices.
Social hours on Thursday, Friday, and Saturday nights.
Virtual lounges hosted by Student Equity and Inclusion Program Cultural Centers to connect students and build community.
---
ACADEMICS IN NEW WAYS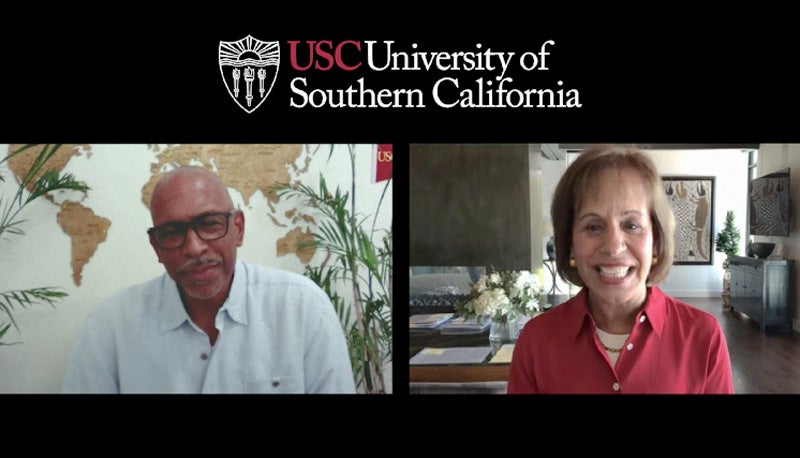 How about tea with your British history class? Or turning your kitchen into a chem lab? Our creative faculty have found ways to connect with students, even miles apart. They've worked with IT staff for months, and USC has devoted considerable resources to create world-class courses and opportunities to exchange ideas. Along the way, students will gain skills for an increasingly digitized world that demands flexibility and teamwork.
On our 23 schools' and centers' websites, you'll find over 50 new initiatives that build on the strength of each school and discipline.
Students in our Thrive course develop practical skills to lead a fulfilling life.
A new Trojan Master Class offers a unique USC-only portfolio of discussions and classes with global experts on topics of national and local importance.
Industry leaders, working professionals, well-known artists, and entrepreneurial innovators will give guest lectures and presentations in classes across the University.
Undergraduate lab classes will include experiments done virtually, with some done at home using science kits provided by USC educators.
Anatomy classes will feature 3-D modeling and interactive dissection over Zoom.
Experts on timely topics, such as November elections, will moderate online discussions.
First-year students will present their research at a symposium.
Professors are unveiling innovative teaching tools like high-tech lightboards to help students create their own animated videos.
---
INVESTING IN THE VIRTUAL CONNECTION
USC invested substantially in IT support, training, and connectivity and improved digital capacity, lighting, and audio to deliver high-quality images and sound in online courses. Dedicated faculty have given their all to creating an outstanding academic experience.
Faculty participated in 125 workshops on reimagining courses for an online environment.
Online and phone technical support hours have been extended to all time zones.
Free laptop loaners are available to students.
Free cellular hotspots for students with connectivity issues.
20 studio classrooms to enhance both hybrid and online teaching.
New technology to enable better data transfers for students doing research remotely.
Over 1,100 channels were created on the online messaging platform Slack, so student organizations can have more meaningful engagements and activities.
---
USC ON THE FRONT LINES
Even as most staff and faculty remain at home to reduce the spread of COVID-19, 4,000 employees still work on our campuses. They handle duties ranging from caring for patients to maintaining facilities. USC can continue its mission only through the dedication of these staff and faculty members. Some highlights from our Care for the Caregiver program:
Almost 10,000 hotel nights (and counting) have been donated at the USC Hotel for our healthcare and emergency workers who need a place to sleep after long shifts or to avoid the chance of exposing their families to infection.
Over 85,000 meals and 58,000 snacks at no cost to our healthcare workers.
A dedicated support line with three full-time therapists, support group meetings, and individual support sessions promote emotional well-being.
Regular COVID-19 testing and wellness checks.
Financial and legal resources.
USC students tutor the children of USC healthcare workers.
Professional and aspiring musicians record performances to express support and provide stress relief.
---
AID TO OUR STUDENTS AND COMMUNITY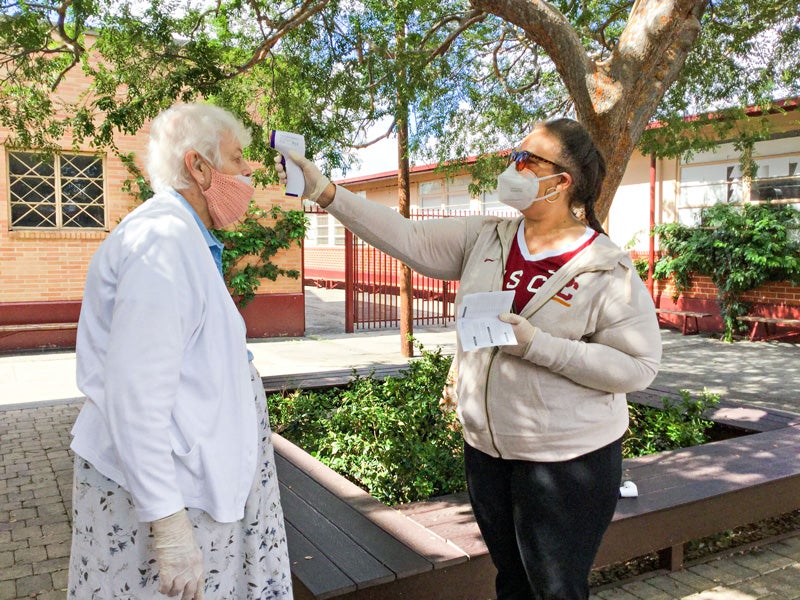 During this pandemic, neighbors need the Trojan Family's help more than ever. Working with our community partners, we are making a difference throughout Los Angeles. So many Trojans have come forward to lend a hand in ways big and small.
Donors gave a combined $2.3 million for emergency funds for students, employees, community neighbors, and Keck Medicine of USC healthcare workers.
About 1,500 students benefited from a pool of $680,000 that USC set aside for students ineligible for federal CARES Act funds. The money helped with food, housing, and other hardships due to loss of wages and other setbacks.
More than $10 million in CARES Act money has been awarded to 5,724 students, with more to be distributed soon.
Over 4 million pounds of food were distributed to neighborhood schools, families, and seniors, including 160,000 pre-packaged meals and 25,000 bags of groceries.
16,000 meals were provided to the homeless.
3,000 wellness and check-in calls have been made to seniors living near our campuses.
Faculty have provided K-12 school superintendents expertise on how to navigate a fall in which most young students will not return to the classroom.
25 micro-grants to continue the work of local nonprofits.
Life-saving blood drives continue at the Galen Center.
---
EVERYDAY HEROES
Whether they're faculty, staff, students, alumni, or Trojan parents, our USC family is supporting each other through this difficult time. Here are a few of the countless ways our Trojan Family continues to Fight On for others:
Our alumni serve as doctors, nurses, and in other critical roles in emergency rooms and ICUs across the world.
USC health professionals drive across Los Angeles in vans to provide medical care for people experiencing homelessness.
Employees cook meals that are served to L.A. seniors.
Alumni and Trojan parents formed networks to manufacture or gather protective gear and deliver it to healthcare workers who need it.
Volunteers create and deliver packets of art materials to homeless artists to enable them to continue their work, even as community arts programs shut down.
Students raise funds for struggling local businesses and secure sanitizing supplies for community service agencies.
---
OUT IN FRONT ON ALL FRONTS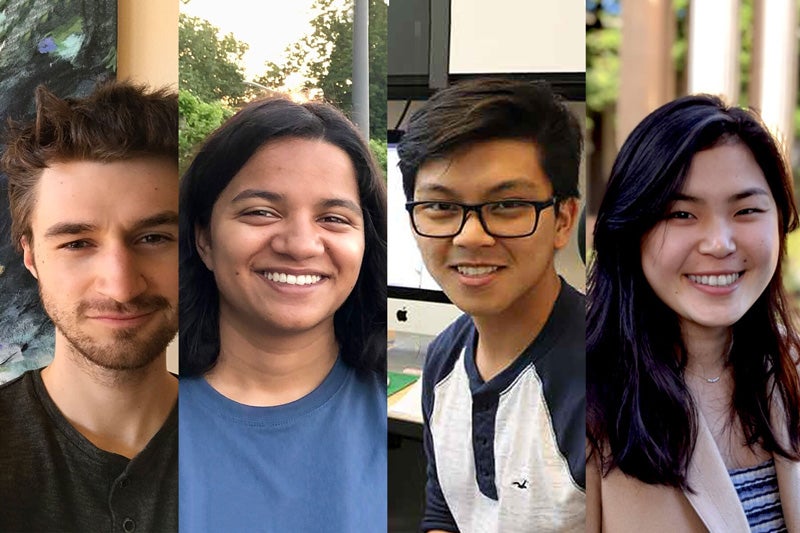 Even as we deal with our new normal of physical distancing and hybrid learning, our Trojan Family members do their part to solidify USC's role as a leading U.S. university. These are some recent achievements:
The University this month granted more than $1.7 million for 22 COVID-19-related research projects in seven schools. These projects will contribute scientific knowledge that will benefit people across the world.
USC COVID-19 projects include lab studies of potential treatments, the effects of stress on pregnancies during the pandemic, how to optimize the location of COVID-19 testing sites, and ways to make public health messaging more persuasive.
Keck Medical Center was again named in the U.S. News & World Report 2020-21 Best Hospitals Honor Roll, placing it among the top 20 hospitals in the nation.
A recent $4.6 million NIH grant will establish the USC-Buck Nathan Shock Center of Excellence in the Basic Biology of Aging. The center's scientists will build understanding of how and why aging processes cause disease.
Andrew McMahon, of the Keck School of Medicine of USC and the USC Dornsife College of Letters, Arts and Sciences, was elected to the National Academy of Sciences.
Four USC Dornsife students were selected from among 1,300 undergraduates nationwide to receive competitive Goldwater Scholarships.
In the arts, dozens of faculty and alumni from the USC School of Cinematic Arts, as well as the USC Thornton School of Music and USC Annenberg School for Communication and Journalism, were nominated for the 72nd Emmy Awards.
The USC School of Architecture and the Getty Research Institute acquired the archive of legendary Black architect and USC alumnus Paul Revere Williams.
---
ATHLETICS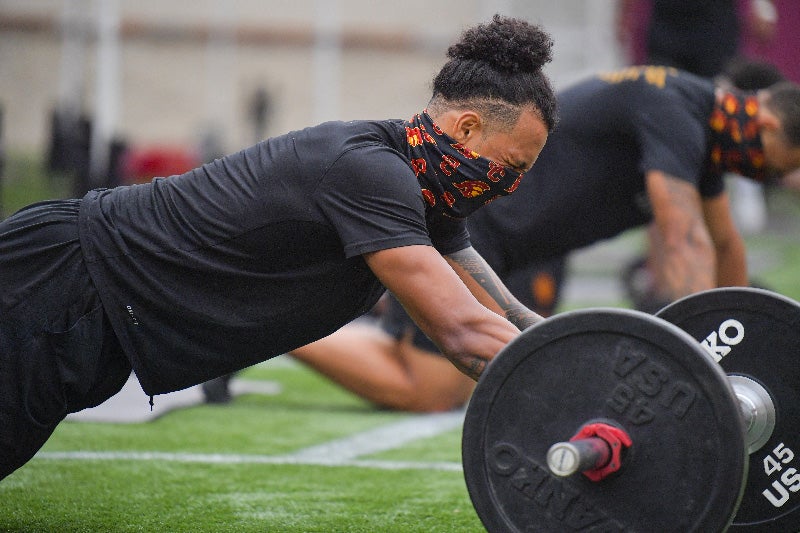 Our coaches and staff are committed to building a world-class athletics program that serves our student-athletes with great care, passion, and integrity – this has not wavered, despite Pac-12 athletic competitions being suspended for the remainder of the calendar year.
USC Athletics continued supporting our frontline healthcare workers by hosting multiple blood drives in the Galen Center.
Athletics led the Trojan Family on the "we FIGHT as ONe" campaign, which donated over 4,500 shirts and sweatshirts to Keck Medicine healthcare workers.
Among the former Trojan student-athletes making their mark in the world of professional sports: Ally Prisock helped the Houston Dash win the National Women's Soccer League Championship; Austin Jackson and Michael Pittman were drafted in the first and second rounds of the 2020 NFL Draft, respectively; and Brooks Kriske became the 115th Trojan to reach baseball's big leagues, more than any other NCAA program in the nation.
On behalf of Trojans fans everywhere, we welcomed Reggie Bush back home to USC, with the privileges and courtesies extended to all of our football alumni.
Black students represent a significant percentage of our athlete population, and we've been inspired by their formation of the United Black Student-Athlete Association. This group will collaborate with USC Athletics' newly commissioned Black Lives Matter Action Team to make a transformative and sustainable impact for Black student-athletes at USC and beyond.
---
NEW FACES AND INITIATIVES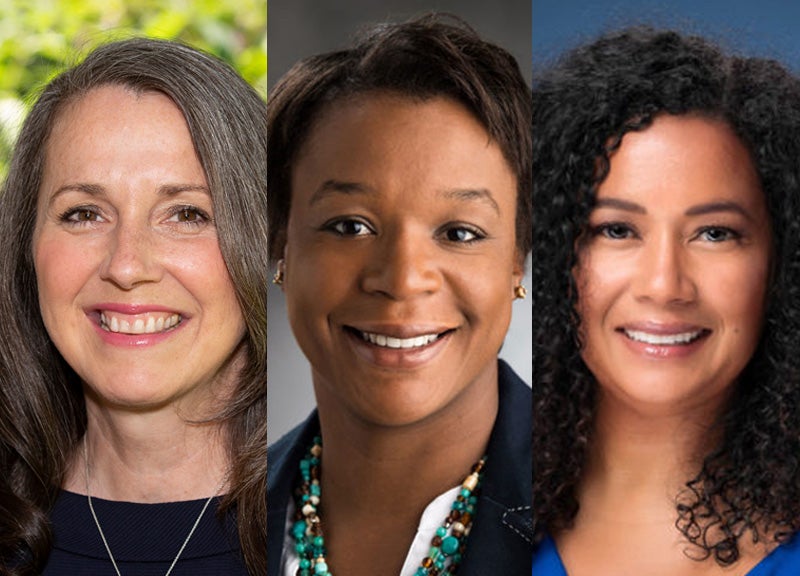 To make lasting change and ensure that our institutional values are embedded in all aspects of university life, we need the right people and programs in place. Equity, diversity, access, accountability, and inclusion across USC and its community partners are top priorities. We are excited to welcome these new Trojans to our family and build on these key initiatives:
Catherine Spear joins USC as our new Vice President for Equity, Equal Opportunity and Title IX. She is a civil rights attorney and respected speaker on issues, including Title IX, equal access, nondiscrimination, and cultural inclusivity.
Kedra Ishop, USC's new Vice President for Enrollment Management, will oversee admissions, financial aid, and registration. She is a founding member of the College Board Access & Diversity Collaborative, where she helped create policies in support of educational diversity and access.
Effie Turnbull Sanders has over 20 years of experience advancing the rights of the underserved in Los Angeles. She will be USC's new Vice President of Civic Engagement & Economic Partnerships and will strengthen USC's commitment to civic engagement and economic opportunity and equity in our communities.
USC will be hiring its first-ever Chief Inclusion and Diversity Officer, who will give greater visibility and urgency to all our diversity, equity, and inclusion efforts.
The USC Shoah Foundation and USC museums have come together to form the USC Stronger than Hate initiative. This effort will confront anti-Semitism, anti-Black and anti-Asian racism, and other forms of identity-based hate and discrimination.
Members of the Community Advisory Board for the Department of Public Safety have been selected. The board's 19 members include students, faculty, staff, and members of the community. This board will help ensure an environment in which people feel safe and respected.
The President's and Provost's Task Force on Racial Equity, Diversity and Inclusion is taking shape, with broad representation of faculty, staff, undergraduate and graduate students. This task force will identify structural and institutional processes that perpetuate racism and inequality.
Mandatory Unconscious Bias Training will roll out this fall to provide a baseline education for students, staff, and faculty.
---
HEALTH, STRESS, AND SUPPORT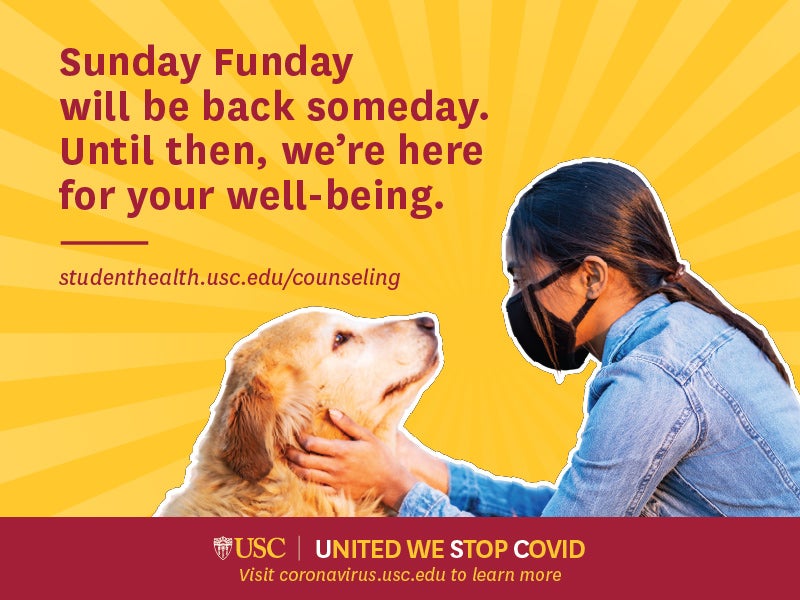 Nothing is more important than our health and well-being. We want our students to thrive inside and outside the classroom physically, mentally, and emotionally. New and expanded initiatives and resources enhance wellness for our entire community:
Our campuses have been configured for safe pedestrian traffic flow, with signs prominently displayed giving guidance on safety, social distancing, and hygiene.
Face coverings are required on university sites.
A daily online symptom check is required for everyone accessing campus.
Testing is available on campus for faculty, staff, and students who develop symptoms consistent with COVID-19 or who have been exposed.
Mindfulness classes and resources and spiritual groups have expanded online to reduce stress and increase our ability to connect.
Let's Talk, an online program for students, provides coping skills and a safe place to discuss challenges. It has increased its hours and added sessions for international students.
Due to state law, clinical mental health services are available only to those physically located in California, so we have a dedicated team of care coordinators for students living outside the state to help you connect with care in your area.
Student well-being will be the focus for the year at the Keck School of Medicine of USC's Department of Psychiatry and Behavioral Sciences. The department will partner with the broader university community to enhance support for our students so they can reach their academic and life goals.